IMPACT, benchtop dot peen marking station.
DOT PEEN STATION
Standalone metal engraving machine, the Impact is easy to configure and master. Benefit from our 40 years of experience in dot-peen and traceability to take your business, whatever size and expertise, to the next level.
Touch & Mark
The large colour touchscreen and onboard control software make training a thing of the past. The intuitive system allows you to start marking text, logos and 2D codes straight away. From serialisation, automatic timestamping, counters, duplication control, marking preview, link to a database and marking history the all in one system makes the operator's life easy and does not require a computer or complicated setup.
 
I-Sense
With the motorised Z-axis, it has never been so easy to adjust the Z-axis on the Impact dot peen marking machine. The I-Sense function (Impact eZ m) detects the surface of the workpiece, automatically adjusts the height of the Z-axis and starts marking with no intervention on the part of the operator. Several adjustment modes are available: automatic mode (I-Sense), programmable mode and normal mode, which allows manual adjustment by means of buttons located on the side of the machine.
 
Dynamic Dot Control
Creating a perfect result every time the IMPACT features DDC™ (Dynamic Dot Control) (Impact m and eZm) technology which enables automatic adjustment of point density according to the required size and depth of marking. Because of this, your markings are high quality and with high visibility, irrespective of your application. Two adjustment modes available: automatic and manual.
Technical Specifications
Available in two power sources
Pneumatic (p) - Requiring compressed air
Electromagnetic (e) - Electric version

Available with manual or motorized Z-axis
Pneumatic (p eZ) and Electromagnetic (e eZ)

Multiple stylus available for all your marking environments

Accessories available
Rotary devices
Automatic plate feeders
Support USB barcode and 2D code readers for the read-and-mark-and-check process.

File transfer via USB stick or PC software (TCP/IP)

The markings comply with international standards
Data Matrix™ ECC200 5x7 font DT05-89 ATA Spec 2000 UID SAE AS9132 NASA-STD-6002 MIL-STD-130 ISO/TS 16949 AIAG B-17, AIAG B-4 ISO/IEC 16022 AIM-DPM etc.
General
Technologies
Pneumatic
Electromagnatic
Software
Integrated traceability software with colour touchscreen
Marking Capacity
Marking area
100 mm (3.937 in) x 120 mm (4.724 in)
Z axis stroke
300 mm (13 in)
Z axis type
e & p: Manual
e eZ & p eZ: Motorized & programmable
| | Impact p | Impact m | Impact eZ p | Impact eZ m |
| --- | --- | --- | --- | --- |
| Model | | | | |
| Technology | | | | |
| Dimensions (L x W x H) | 490 mm (19.291 in) x 270 mm (10.630 in) x 704 mm (27.716 in) | 431 mm (16.968 in) x 270 mm (10.630 in) x 704 mm (27.716 in) | 509 mm (20.039 in) x 277 mm (10.905 in) x 637 mm (25.079 in) | 490 mm (19.291 in) x 270 mm (10.630 in) x 704 mm (27.716 in) |
| Marking area | 100 mm (3.937 in) x 120 mm (4.724 in) | 100 mm (3.937 in) x 120 mm (4.724 in) | 100 mm (3.937 in) x 120 mm (4.724 in) | 100 mm (3.937 in) x 120 mm (4.724 in) |
| Machine weight | | | | |
| Communication Interfaces | RJ45, USB(x2), RS232, Process IOs | RJ45, USB(x2), RS232, Process IOs | RJ45, USB(x2), RS232, Process IOs | RJ45, USB(x2), RS232, Process IOs |
| Embedded fonts | | | | |
| Display | | | | |
| Z Axis type | Manual, 300 mm (11.811 in) | Manual, 300 mm (11.811 in) | Motorized, 300 mm (11.811 in) | Motorized, 300 mm (11.811 in) |
| 2D Codes | | | | |
| Rated power comsumption | | | | |
| Input voltage | | | | |
| Compressed air supply | | | | |
| Rotary Device (option) | | | | |
| Languages available | | | | |
| Operating temperature | | | | |
The IMPACT range makes it possible to perform precise and high-quality marking on a large number of materials from, metal plate engraving (steel and painted steel, aluminum, brass, iron, steel, raw and anodized aluminum) to plastics (ABS, PA, PP).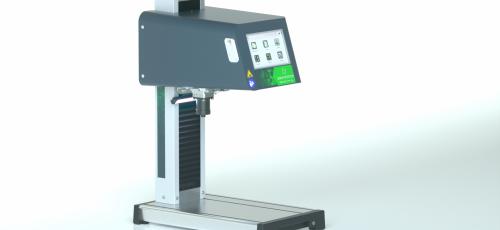 From single part markings to small batches the IMPACT is loved for it size and versatility. With a 300mm clearance and open architecture traceability on, one of the smallest parts to identification on larger heavier parts are available. No job is too big. Used from automotive, aerospace, medical, and from heavy and light industries, the Impact has become a favorite workstation.
We took all of our experience working within industrial traceability and created the IMPACT a need, where both the marking requirements and the parts to be marked, are constantly changing. The IMPACT was created to be the all in one, ready to go solution, with usability at the forefront and designed to be opened and ready to start marking immediately.
This dot peen marking machine can handle more than 25 materials
DOT PEEN
ORGANICS
Wood, varnished wood
PLASTICS
ABS​​
PA
PC
PE, BET
PMMA, Acrylic
POM - PBT
PP
METAL
Aluminum
Anodized Aluminum​​
Brass​​
Carbide
Coated metal
Copper
Gold, silver, nickel, platinum
Stainless steel​​
Steel
Titanium
IMPACT: modern machine, historical robustness
Technifor started to manufacture benchtop dot peen machines 40 years ago
Our historical brand Technifor invented dot peen, a new marking technology, only four years after being founded in 1985. The CN machine range was quickly launched following the dot peen invention. These standalone marking machine allowed busy workshops and part manufacturers to easily identify all kinds of small to medium-sized industrial items.
In 2008 Technifor released the XF500 standalone marking machine which inherited from the robust mechanics of the dot-peen "CN" range.
Designed for worshops, this stand-alone marking solution has enabled parts manufacturers to easily identify all kinds of small and medium-sized industrial parts.
At the same time, Propen, a distribution brand of the Gravotech Group, developed the worldwide famous P5000 standalone engraver. When Technifor and Propen joined forces in 2018, the XF500 and P5000 evolved into the IMPACT standalone engraver, a modern, industrial, and robust marking machine, field-proven for the industry.